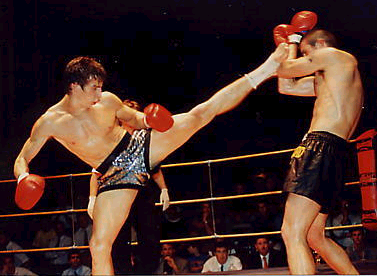 Steve "Superkick" Vick is a retired Australian kickboxer. His kicks were absolutely PHENOMENAL. Taking his Taekwondo background with him to the ring, he became one of the most respected kickboxers of all time.
Vick was the Taekwondo National Champion of Australia five times in a row. Not satisfied with dominating the Australian Taekwondo circuit, he moved on to kickboxing. Vick easily brushed the competition aside, becoming State Kickboxing Champion, then National Kickboxing Champion. Setting his sights on the rest of the world, Vick entered the international spotlight. Soon he was crowned the Commonwealth Kickboxing Champion, then the Intercontinental Champion, until, finally, he fought his way to become the World Kickboxing Champion in 1994.
Here are some of his fighting highlights. Prepare to be amazed.
His Taekwondo years.....
and his kickboxing years...