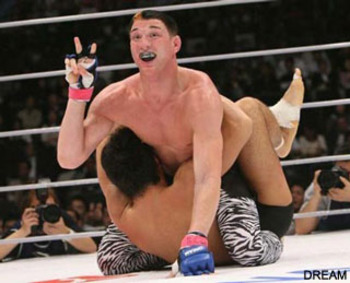 "I don't want to lick any butt." –

GSP

"I'm the oldest I've ever been, right now" –

Tim Sylvia

"Somebody's telling me that about my wife; I'm sorry sir I'm going to have to break your leg." –

Bas Rutten

"I am impervious to all pain!" –

Pat Smith during

UFC 1

, prior to tapping out to Shamrock

"I didn't use steroids" –

Sean Sherk

"90 percent of the game is half mental" –

Tim Sylvia

"I don't initiate violence, I retaliate" -

Chuck Norris

"It's just a job. Grass grows, birds fly, waves pound the sand. I beat

people up." -

Muhammad Ali

"Yesterday I was lying, today I am telling the truth."

-Bob Arum
And a whole slew of Mike Tyson quotes:
"
My power is discombobulatingly
devastating."
"When I was in prison, I was wrapped up in all those deep books. That Tolstoy nonesense - people shouldn't read that stuff"
"My biggest weakness is my sensitivity. I am too sensitive a person."
"He called me a 'rapist' and a 'recluse'. I´m not a recluse."